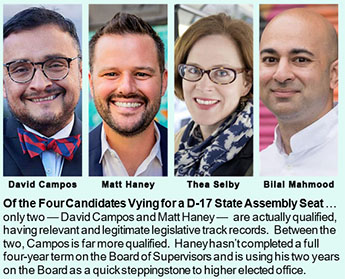 January 10, 2022

February 15 Election Recommendation
San Francisco's D-17 Seat In State Assembly
by Patrick Monette-Shaw


Just two weeks from now, ballots for the special February 15 primary election to replace District 17 Assemblyman David Chiu will start being mailed out by San Francisco's Elections Department, so watch for your ballots to arrive in U.S. mail. As you may remember, Chiu resigned to accept Mayor Breed's appointment to replace former San Francisco City Attorney Dennis Herrera.
Of the four candidates running to replace Chiu in the Assembly, only two candidates have relevant experience applicable for the job.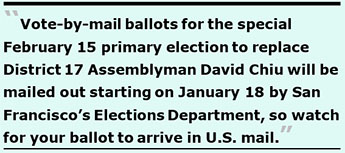 [Spoiler alert: Of the two potentially viable candidates, it's not current San Francisco D-6 Supervisor Matt Haney!]

The Four Candidates for Assembly

The four candidates seeking to replace Chiu in the Assembly include:

Thea Selby

Selby's web site claims she is the only female Democrat elected citywide running for the Assembly. It's an essentially meaningless and convoluted claim to have asserted, since most voters don't consider whether any candidate has previously been elected citywide to any office as a valid qualification to be elected to some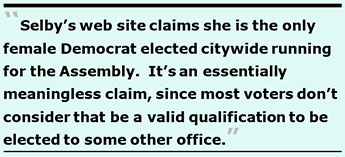 other office.

The citywide election she asserts she won for a seat on San Francisco City College Board of Trustees is clearly not a policy body that crafts or enacts legislation. Why does she believe she's qualified to become an Assembly member to author statewide legislation given her lack of crafting legislation at the municipal level?

Indeed, CCSF faculty and students have previously asserted "We at City College are tired of aspiring politicians using our beloved educational institution as a steppingstone" [to higher political office]. It's appears Selby is potentially using her tenure on a relatively obscure Board of Trustees as her steppingstone to the State Assembly.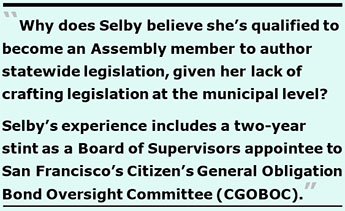 Selby's experience includes a two-year stint as a Board of Supervisors appointee to San Francisco's Citizen's General Obligation Bond Oversight Committee (CGOBOC) to a seat reserved for candidates having experience in the business community. She served on CGOBOC between 2011 and 2013, including a stint as Chairperson of CGOBOC.
Her predecessor as CGOBOC's Chairperson was Abraham Simmons, a then- and current-U.S. Attorney who had served on San Francisco's Civil Grand Jury. Simmons was subsequently appointed to a CGOBOC seat reserved for previous members of the Civil Grand Jury.
While Simmons was chairperson of CGOBOC in 2010 and 2011, I brought to his and the Committee's attention that I had learned while working at the Capital Planning section at the Recreation and Parks Department, that the Department of Public Works had a robust software program to track "change orders" on major capital improvement bond measures, like the Laguna Honda Hospital (LHH) rebuild general obligation bond.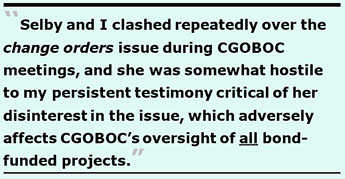 I had learned "change orders" often drive up costs of capital improvement bond-funded projects, an issue I covered for the Westside Observer newspaper on the massive $185 million in cost overruns on the bond-funded Laguna Honda Hospital replacement project. LHH's glut of change orders lead to one-third of the patient skilled nursing beds being eliminated, downsizing the hospital from 1,200 to 780 beds, resulting in many patients being dumped out-of-county.
Simmons took the problem seriously and promised CGOBOC would begin monitoring change orders on every General Obligation Bond program as part and parcel of CGOBOC's oversight on bond-funded projects.
Unfortunately, subsequent CGOBOC chairperson's Thea Selby and Rebecca Rhines (who served between 2013 and 2015) studiously avoided expanding CGOBOC's focus to involve change order cost overruns. Selby and I clashed repeatedly over the issue during CGOBOC meetings, and she was somewhat hostile to my persistent testimony critical of her disinterest in the issue.
Selby's web site claims "that she demanded accountability on the Citizens' General Obligation Bond Oversight Committee by increasing the number of mandatory committee meetings to better oversee $7 billion in taxpayer-funded city bonds." She asserts that when she was Chair of CGOBOC she took

the committee from a "sleepy committee" overseeing a few bonds to a committee capable of overseeing the then-current $7 billion in G.O. bonds. She claims that under her so-called leadership in 2010 and 2011, the frequency of CGOBOC meetings were increased to provide better oversight of G.O. bond-funded projects. Unfortunately, her disinterest in the change orders issue adversely affects CGOBOC's oversight of all bond-funded projects.
Nearly a decade later after Selby's term ended, CGOBOC reduced the frequency of its meetings to only six per year (every other month) — resulting in even less oversight — despite the fact that voters had passed even more general obligation bonds increasing the G.O bonds issued to over $10 billion (including interest on the bonds) with other bonds having been retired.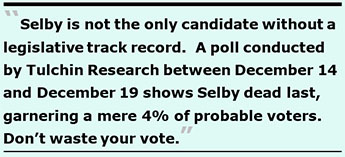 Thea's list of endorsements on her web site is a hot mess, listing her endorsements set in white text on a difficult-to-read photographic background. Of Selby's 37 endorsements listed as of January 6, 2021 only three are current elected officials seem to have endorsed her: Oakland Mayor Libby Schaaf, California State Treasurer and former San Francisco Supervisor Fiona Ma, and State Senator Connie Leyva (representing Senate District 20, the Inland Empire in Southern California, including San Bernardino and Riverside). Leyva is not seeking re-election when her term ends in 2022. Selby's endorsements list doesn't seem to include any San Francisco elected officials other than Fiona Ma, or any labor unions.
Selby is not the only candidate without a legislative track record. A poll conducted by Tulchin Research between December 14 and December 19 shows Selby dead last, garnering a mere 4% of probable voters. Don't waste your vote on her.
Bilal Mahmood
Mr. Mahmood asserts he is a civil servant and entrepreneur "with experience in both the public and private sectors committed to delivering bold solutions to San Francisco's most difficult problems in the state legislature."

Mahmood's background is in neuroscience, but says he has experience working in both government and business.
Mahmood's Linked-In profile notes that he led policy research for the National Advisory Council on Innovation and Entrepreneurship for the U.S. Department

of Commerce for one year, between 2010 and 2011. His claim to be a civil servant appears be limited to the one year he served in the Department of Commerce as an appointee of former President Barrack Obama, not as an elected official. As of January 6, 2022 Bilal's web site for his run for the State Assembly contains no links listing who may be endorsing him for this election.
Mahmood does not appear to have ever run for, or held, elected public office in either San Francisco or California. So, like Ms. Selby, Bilal doesn't have a legislative track record.
The Tulchin Research poll between December 14 and December 19 shows Mahmood in third place, garnering 14% of probable voters.
Matt Haney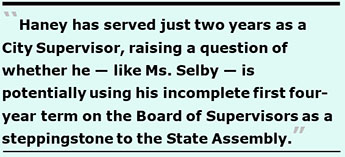 Supervisor Matt Haney received his law degree from Stanford Law School in 2010 focusing on education law. He was elected to the San Francisco Board of Education in November 2012, given his background is in education.
Haney was elected to San Francisco's Board of Supervisors in November 2018, and was sworn in to represent San Francisco District 6 on January 8, 2019. Therefore, he has served just two years as a City Supervisor, raising a question of whether he — like Ms. Selby — is potentially using his incomplete first four-year term on the Board of Supervisors as a steppingstone to the State Assembly.
His web site for election to the Assembly claims he "Rezoned the city to allow affordable housing to be built everywhere by co-sponsoring the 'Affordable Homes for Educators and Families NOW' ballot initiative" in November 2019 that became "Proposition E" on the municipal ballot. He's stretching the truth for a number of reasons.
First, although Haney co-sponsored along with three other City Supervisors and supported "Prop. E" on the 2019 ballot, he did not rezone the entire City to allow affordable housing that could be built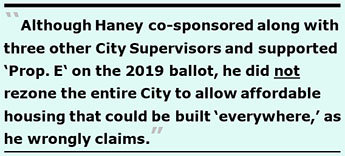 "everywhere" as he wrongly claims, let alone all by himself. Instead, "Prop. E" asked voters to approve allowing building only 100% affordable housing — not all affordable housing — only on public land owned by the City or school districts, not "everywhere." And the ballot measure didn't actually re-zone those "P, Public" parcels of land; Prop. E just changed the Planning Code to allow residential housing only for educators and 100% affordable housing projects on parcels zoned "public."
Second, it's thought that the majority of the housing projects that may be approved under "Prop. E" will be targeted only to educators and teachers, and only to a lesser extent other San Franciscans who also desperately need access to affordable housing. And third, it was not Haney, but voters who achieved this goal, so it was not something Haney accomplished all by himself.
On Friday, January 7 the first campaign flyer from Haney's campaign arrived in San Franciscan's U.S. mailboxes; voters suspect they'll be inundated with many more flyers from his campaign and other Independent Expenditure Committees likely to be supporting hm. His flyer claims he brought 5,000 new units of housing to his District. Haney didn't stratify how many of the 5,000 units are market-rate units vs. affordable housing units.
It's unlikely the 5,000 units of new housing Haney claims he has brought to District 6 — which includes the Tenderloin, Civic Center, Mid-Market, SOMA, Yerba Buena, Rincon Hill, South Beach, Mission Bay, and Treasure Island neighborhoods — during the short two-year period he has represented D-6 have predominantly been affordable housing.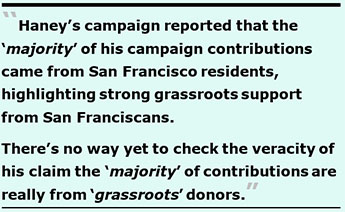 On January 3, 2022 Haney's campaign issued a press release announcing his campaign has raised over $675,000 for his bid to represent California's 17th Assembly District. His campaign reported that the "majority" of his campaign contributions came from San Francisco residents. His press release claimed over 400 San Francisco residents had contributed by January 3, including over 300 residents in AD-17. He claims the donations highlight strong grassroots support from San Franciscans.
Of note, the maximum allowable contribution to California Assembly candidates is $4,900 per person. That suggests Matt would have needed to accept 138 donations of $4,900 each to reach $675,00 in donations, which is unlikely given the median income of D-6 residents. Alternatively, if 400 San Franciscan's had donated to Haney's campaign by January 3, they would have needed to donate $1,688 each to reach a campaign war chest of $675,000. Again, it's a stretch to believe Tenderloin or Treasure Island residents have $1,688 in disposable income to donate that much in so-called grassroots donations.
Because it's a statewide election, campaign contributions are not yet posted on the San Francisco Ethics Commission's web site. And as of January 7, the California Secretary of State's web site reports it hasn't received any campaign contribution disclosure filings in electronic format from any of the four candidates for the D-17 Assembly seat, so there's no way yet to check the veracity of Haney's press release, see the names of the people donating to Haney's campaign and at what dollar amounts in contributions, or whether the "majority" of contributions are really from "grassroots" donors.
Those mandatory campaign finance disclosure documents may not become available before San Francisco voters begin receiving their vote-by-mail ballots in the next two weeks to learn who has donated $675,000 to his campaign.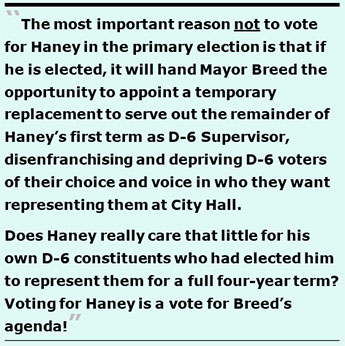 And there are no reports available yet about how much more money has been contributed to date to so-called "Independent Expenditure Committees" supporting Haney.
Haney asserts his campaign will not accept donations from corporation PAC's. By contrast, Campos asserts his will be a corporate-free campaign. That distinction may be relevant, allowing Haney to accept corporate donations, just not from corporate PAC's.
That's why, in part, there are credible concerns that Haney and other corporate-backed candidates — like Mayor Breed's "Angel" investor Ron Conway — are raising millions of dollars to support Haney and defeat Campos, and possibly falsely claim Haney has "grassroots" support. Don't fall for their Big Lie, which is reminiscent of Trump's Big Lie!
As it is, Haney's web site showed that as of January 6 he had a total of only 91 endorsements, including just 13 elected officials, 28 community leaders, and 50 labor unions, mostly from the trade unions (compared to Campos' 224 endorsements, below).
Perhaps the most important reason not to vote for Haney in the special February primary Assembly election is that if he is elected, it will hand Mayor London Breed the opportunity to appoint a temporary replacement to serve out the remainder of Haney's first term as D-6 Supervisor, disenfranchising and depriving D-6 voters of their choice and voice in who they want representing them at City Hall. Does Haney really care that little for his D-6 constituents who had elected him to represent them for a full four-year term? Voting for Haney is a vote for Breed's agenda!
The Tulchin Research poll between December 14 and December 19 showed Haney in second place, garnering only 25% of probable voters.
David Campos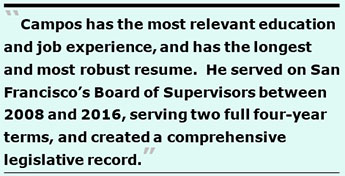 Of the four candidates, Mr. Campos has the most relevant education and job experience, and has the longest and most robust resume among San Francisco politicians.
Campus graduated from Stanford University with a degree in political science and went on to earn his law degree from Harvard Law School in 1996. He served as a Deputy City Attorney for the City and County of San Francisco between 1999 and 2004. He then served as general counsel for the San Francisco Unified School District between 2004 and 2007, and concurrently served as a member and vice president of the San Francisco Police Commission between 2005 and 2008.
Campos ran for Supervisor in San Francisco and served on San Francisco's Board of Supervisors between 2008 and 2016, serving two full four-year terms, and created a comprehensive legislative record. One web site lists many of Campos' legislative accomplishments while on the Board of Supervisors, including landmark legislation on issues of local and national significance, including immigration, transportation, policing, housing, health care, labor and employment, small business, women's and LGBTQ rights, and homelessness, among others. The web site summarizes other specific key legislation he accomplished.
Campos has emphasized his work on San Francisco's sanctuary city policy, and on healthcare, transportation and energy as among his most significant legislative achievements. He introduced CleanPowerSF in 2012 to buy electricity generated from renewable source rather than from PG&E. He also advanced legislation for free Muni passes for youth, worked to expand San Francisco's sanctuary city ordinance, and closed a loophole in the City's Healthy SF program, among other legislative accomplishments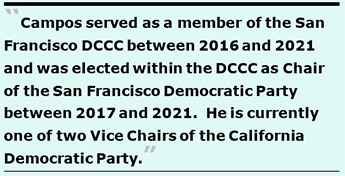 Following his service on the Board of Supervisors when he was termed out in 2016, Campos was appointed as a Deputy County Executive in Santa Clara County in March 2017. He served concurrently as a member of the San Francisco Democratic County Central Committee (DCCC) between 2016 and 2021 and was elected within the DCCC as Chair of the San Francisco Democratic Party between 2017 and 2021. Campos is currently one of two Vice Chairs of the California Democratic Party.
When Campos ran against former San Francisco Supervisor David Chiu in November 2014, Campos lost by a mere 2.12%, a difference of just 2,625 votes shy of winning the D-17 Assembly seat. Campos lost in large measure because of Independent Expenditure Committee attack ads funded, in part, by Mayor Breed's newest pal, Ron Conway.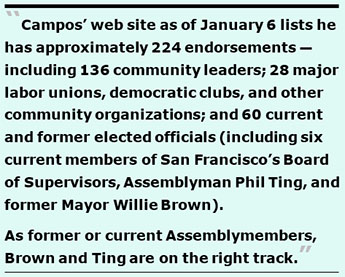 In stark contrast to other candidates vying for election in the State Assembly race, Campos' web site as of January 6 lists that he has approximately 224 endorsements — including 136 community leaders; 28 major labor unions, democratic clubs, and other community organizations; and 60 endorsements from current and former elected officials (including six of the current 11 members of San Francisco's Board of Supervisors, Assemblyman Phil Ting, State Senator Dave Cortese representing Senate District 15, and former Mayor Willie Brown).
Brown should know who the best candidate to represent San Francisco in Assembly District 17 is, after Willie spent 30 years representing San Francisco in the State Assembly and as Speaker of the Assembly. As former or current Assemblymembers, Willie Brown and Phil Ting are on the right track!
In addition to the six current members of the Board of Supervisors who have endorsed Campos, an additional 11 former members of San Francisco's Board of Supervisors have endorsed Campos, too. Combined, the 17 former and current City Supervisors also know Campos is the best candidate to represent Assembly District 17 residents.
The labor unions and other organizations supporting Campos in his run for the Assembly, include the International Federation of Professional and Technical Engineers (IFPTE) Local 21, National Union of Healthcare Workers, Transport Workers Union Local 250A, UNITE HERE Local 2, United Educators of San Francisco, San Francisco Tenants Union, Chinese Progressive Association Action Fund, Rose Pak Democratic Club, Bernal Heights Democratic Club, and the District 11 Democratic Club, among many others.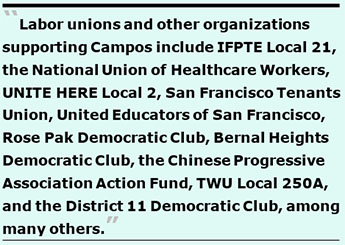 Given that 39% of Californians are Latino or Hispanic but only 25% of State legislators are Hispanic, it's high time San Franciscans elect a Latinx individual — Campos — to represent the City in the State Assembly!
The Tulchin Research poll between December 14 and December 19 showed Campos is in first place, at 30% of probable voters.
Should Campos win with more than 50% of the vote in the February 15 primary, San Franciscans can avoid spending more millions on a run-off election in March. Cast your vote for Campos as soon as you receive your vote-by-mail ballot, and encourage voters you know to do the same. (Don't let Ron Conway's "dark money" buy himself another election!)
Postscript: Defining "Grassroots" Donations
Haney's campaign web site asserts he is receiving significant grassroots campaign donations and he's running a grassroots campaign. But how is "grassroots"

defined?
After submitting this article to the Westside Observer for publication, I learned that the San Francisco Examiner had published and then updated an article on Friday, January 7 about campaign contributions pouring into various upcoming San Francisco election campaigns, including the race for who will represent San Francisco's eastern neighborhoods in the State Assembly. The article contained preliminary data of campaign donations for all four of the candidates seeking election to State Assembly D-17.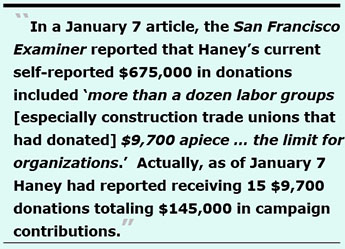 In the article, the Examiner reported that Haney's current self-reported $675,000 in donations included "more than a dozen labor groups [especially construction trade unions that donated] $9,700 apiece … the voluntary campaign spending limit for organizations." Actually, Haney has received 15 $9,700 donations totaling $145,000 in campaign contributions. [Editor's Note: The Examiner's reporting on the $9,700 limit seems to be wrong; it's not a "spending limit," it's a maximum "donation-per-candidate" limit organizations can't "voluntarily" exceed.]
The Secretary of State (SoS) doesn't require candidates file their initial campaign contribution disclosure reports until January 31, 2022, which is long after mail-in ballots will start arriving in AD-17 residents' mailboxes and early voting begins. But the SoS does require that donations of $5,000 or above from a single contributor or organization be reported to the State within 10 days of receipt of the donation. The SoS also requires that donations of over $1,000 from a single contributor be reported within 24 hours during each 90-day election cycle, so the preliminary electronic data now currently available gives us some data to consider while starting to decide which candidate to vote for.
The Examiner's article was based, in part, on the preliminary data in the SoS' "advanced search" feature at https://powersearch.sos.ca.gov/advanced.php. But the Examiner article relied on self-reports from each of the four candidates' campaigns for greater accuracy.

Haney's web site claims he has received endorsements from 50 "organizations," most of them labor unions, including 21 of which are construction trade unions. It's not clear yet how many of those labor unions have donated either the $9,700 maximum that applies to "organizations" or how many of the 50 unions contributed at the $4,900 maximum that applies to individuals. We won't learn that until the mandatory electronic campaign finance disclosure records become available on January 31.
Most observers don't consider the $9,700 maximum donation amount that applies to organizations, or the $4,900 maximum amount that applies to individuals, to be "small-dollar" grassroots donations.
Preliminary Secretary of State Data
Analyzing data downloaded from the SoS web site reveals initial data about how much money each of the four candidates for Assembly have raised so far, independent from their self-reporting data.
Table 1: State Assembly Campaign Contributions, as of January 7, 2022 (for PrimaryElection)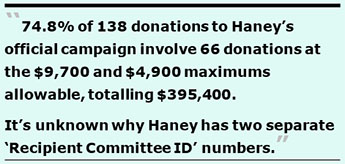 The table above reveals some significant information:
74.8% of 138 donations to Haney's official campaign (not IE Committees supporting him) as of January 7 involved 66 donations at the $9,700 and $4,900 maximums allowable, totalling $395,400.

Oddly, the preliminary data downloaded from the SoS web site revealed that the donations to Haney to date include two different Recipient Committee ID numbers : ID #1441330 (named "Matt Haney for Assembly 2022") and ID #1442544 (named "Haney for State Assembly 2022"). It's not yet known why there are two separate recipient committees for Haney, and it's not yet known if one or the other may be a committee created so he could potentially roll over campaign donations made in 2018 towards his election to the Board of Supervisors in 2019 to his campaign for State Assembly. The SoS data shows that four different construction trade organizations (unions) each made two $9,700 donations to each of Haney's two Recipient Committees.


By contrast, just 51% of 72 donations to Campos' official campaign have involved 18 donations at the $4,900 maximum allowable, totalling $88,200.


Of the $383,200 Mahmood had reported to the SoS by January 7, fully 78.3% came from the four donations he contributed to himself, since he declined to agree to campaign spending limits. By contrast, 48Hills reports Campos and Haney had agreed to the campaign spending cap of $649,000.

(This doesn't explain why the Examiner had reported on January 7 that the Haney campaign had asserted by way of "self-report" that donations to Haney to date had reached $675,000 — $26,000 more than the $649,000 "cap.")

[Editor's Note: The California's Fair Political Practices Commission's (FPPC) web site reports that the Assembly 2021–2022 election cycle spending cap is, in fact, $649,000 for the primary. Apparently, funds raised for the primary election in excess of the $649,000 spending cap can potentially be rolled over to the $1,135,000 spending cap for the general election, assuming Haney advances to the March run-off election.]

Although 48Hills reported that thinks both Haney and Campos will reach the $649,000 spending cap from donations of $4,900 or less, Table 1 above shows that the SoS web site reports that at least $178,000 — 33.7% — of Haney's donations received as of January 7 involved contributions of more than $4,900.


Selby has reported just $21,950 to the SoS to date. As a reminder, the Tulchin Research poll conducted in mid-December 2021 showed Selby dead last, at just 4% of probable voters.
Independent Expenditure Committees Supporting Haney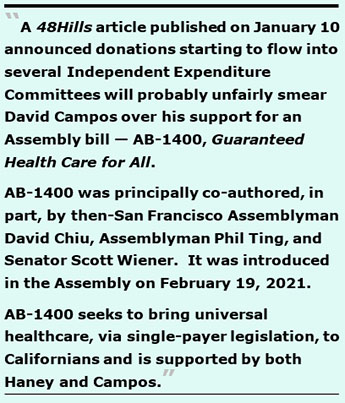 The 48Hills web site published an article on January 10 announcing donations starting to flow in to several Independent Expenditure Committees that will probably unfairly smear David Campos over his support for an Assembly bill — AB-1400, Guaranteed Health Care for All — to establish an American Health Benefit Exchange to facilitate the purchase of qualified health benefit plans by qualified individuals and qualified small employers The bill was principally co-authored, in part, by then-San Francisco Assemblyman David Chiu (who is now San Francisco's City Attorney), Assemblyman Phil Ting, and State Senator Scott Wiener. The bill was introduced in the State Assembly on February 19, 2021. AB-1400 was referred to the Assembly's Committee of Health on January 6, 2022 and was being heard in Committee on the evening of January 11. It needs just eight Assembly members to advance out of Committee, and is expected to secure the eight votes. (Stay tuned.)
AB-1400 seeks to bring universal healthcare, via single-payer legislation, to Californians and is supported by both Matt Haney and David Campos.
48Hills reported that an Independent Expenditure Committee (IE) formed to support Haney (and oppose Campos) has already raised $270,000 to date, including $200,000 from building trade unions. You can be sure of two things: 1) This IE Committee will receive much more in campaign donations before the February 15 election, most probably in the hundreds of thousands of dollars, and 2) They will mount nasty attack ads against Campos over the single-payer healthcare issue, turning a blind eye to the support of AB-1400 by Haney, Wiener, Chiu, and Ting. You can be sure of that because IE Committees do not have any restrictions on how much money they are allowed to raise.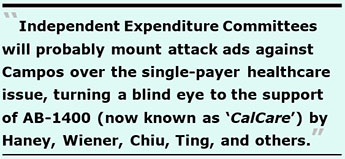 To the extent that AB-1400 advances out of the Assembly's Committee on January 11, the IE Committee seeking to smear Campos will be wasting it's money and time, and should just shut up and quietly go home!
[Update: AB-1400 — now commonly known as "CalCare" did advance out of the Assembly's Health Committee on an 11-to-3 vote on January 11 and was forwarded to the Assembly's Appropriations Committee. The bill must now be passed by the full Assembly by January 31, 2022.]
The IE will be seeking to buy a politician — Haney — it feels more comfortable with.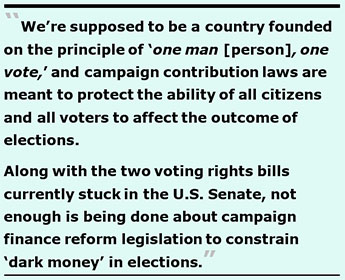 Distrust in Voting Rights
We're supposed to be a country founded on the principle of "one man [person], one vote." Voters understand that campaign contribution laws are meant to protect the ability of all citizens and all voters to affect the outcome of elections, not to advance the interests of unions and IE Committees.
Along with the two voting rights bills currently stuck in the U.S. Senate, not enough is being done about campaign finance reform legislation to constrain "dark money" in elections at all levels of government, including dark money from labor unions and IE's.
Take for instance the $500 maximum that individuals are allowed to contribute to candidates running for San Francisco elected offices, and the maximum $2,900 cap individuals can donate to candidates running for federal office. How did it come to be that individuals can donate $4,900 each to candidates running for California Senate and Assembly, and individuals can donate up to $32,400 to candidates running to become California's governor, but so-called "organizations" can donate up to nearly $10,000 each to candidates running for the State Senate and Assembly? That's not what I call "one man, one vote," or adequate "voting rights" when so-called labor unions and other "organizations" can go buy themselves elections of candidates running for California State Assembly.

IE Committees granted unregulated campaign finance donations are another reason voters grew to distrust elections, given those buying themselves politicians.
To repeat, cast your vote for Campos as soon as you receive your vote-by-mail ballot!

Watch this space.

[Full Disclosure: I have made a "small-dollar" campaign donation to Mr. Campos' election campaign for State Assembly.]

Monette-Shaw is a columnist for San Francisco's Westside Observer newspaper, and a member of the California First Amendment Coalition (FAC) and the ACLU. He operates stopLHHdownsize.com. Contact him at monette-shaw@westsideobserver.com.